It's bit of a stretch to call this Virtual Reality, in capitals no less, but I can't think of another noun that fits it better.  This is the idea I have been hinting about, sprouted into a proof of concept.  By combining the stable positioning of the SpacePoint Fusion with the always in focus Microvision SHOWWX picoprojector, one can create a pretty convincing glasses-free virtual reality setup in any smallish dark room, like the bedroom in my Bay Area apartment.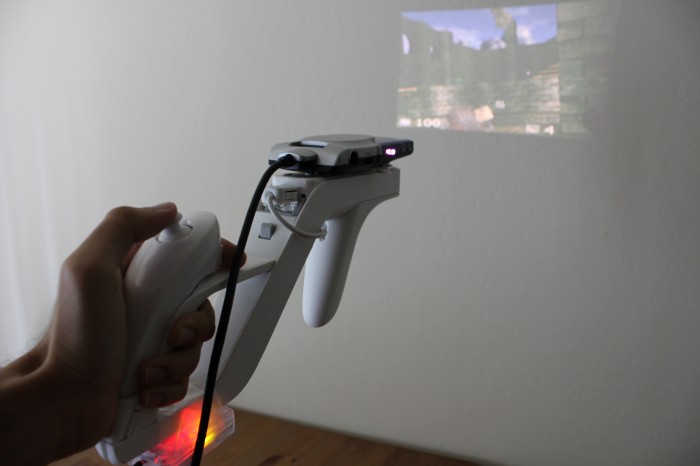 This setup uses the SpacePoint to control the yaw, pitch, and roll of the camera, letting you look and aim around the virtual environment that is projected around you.  A Wii Remote and Nunchuk provide a joystick for movement and buttons for firing, jumping, and switching weapons.  All of the items are mounted to a Wii Zapper.  For now, it is annoyingly all wired to a laptop I carried around in a backpack.  Eventually, I'm planning on using a BeagleBoard and making the whole projector/computer/controller/gun setup self-contained.
The software is a hacked version of Cube, a lightweight open source first person shooter.  It's no Crysis 2, but it runs well on Mesa on integrated graphics, and it's a lot easier to modify for this purpose than Quake 3.  Input is via libhid for the SpacePoint and CWiid for the Wiimote.  All in all, it actually works pretty well.  The narrow field of view and immersiveness (a word, despite what my dictionary claims) makes playing an FPS quite a bit scarier for those who are easily spooked, like yours truly.  There is some serious potential in the horror/zombie/velociraptor genres for a device like this, if anyone is interested in designing a game.
This is just the start, of course.  I know I say that a lot, and there are about a dozen projects on this blog I've abandoned, but I think this one will hold my attention for a while.  I hate showing off anything without source code, so even though it will likely not be useful to anyone, I've attached the patch against the final release of Cube.
Download:
projecting.diff